8th Annual Black Box International Theatre and Dance Festival 2014
The 8th annual Black Box International Theatre and Dance Festival was held from May 31 to June 6, 2014, in Plovdiv. The seven-day festival featured 12 international works in the fields of physical theatre, performance and contemporary dance, as well as a variety of dance seminars and workshops. The festival's partners include the Bulgarian Ministry of Culture, Municipality of Plovdiv, Embassy of Israel, U.S. Embassy, Goethe Institute, Embassy of Belgium, Boris Hristov Cultural Centre, Plovdiv Drama Theatre, and Trakart Cultural Centre.
PROGRAM 2014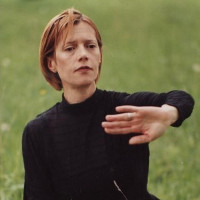 May 29–31
"Themes in Contemporary Dance Theatre or What We Know About Pina Bausch"
Dance workshop with choreographer Mila Iskrenova
Trakart Cultural Centre in the Archeological Underpass
Mila Iskrenova is one of Bulgaria's foremost choreographers. Specializing in modern dance, she is a guest instructor at the "Krustyo Sarafov" National Academy of Theatre and Film Arts, the "Prof. Pancho Vladigerov" National Music Academy, and the Accademia Filarmonica di Messina (Italy). She is also head choreographer for the legendary Arabesque Contemporary Dance Company.
This dance atelier is supported by the Goethe-Institut Bulgaria
Оfficial Opening
May 31 (Saturday)
BOB'ART
Opinion Public Company – Belgium
Boris Hristov Cultural Centre, 7 p.m.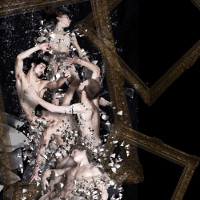 Drawing inspiration from their personal and professional experience with the Béjart Ballet Lausanne, the members of the Opinion Public dance company are driven by a common desire: to create a distinctive choreographic style.
Opinion Public is presenting its 2013 creation Bob'Art, a satire on the excesses of modern art. The piece takes particular aim at the performing arts and their penchant for over-psychologizing, ultimately disconnecting the performance from its art form and audience. Through an irreverent mix of dance and theatre, Opinion Public puts on a quality show that pokes fun at those who aren't even funny anymore.
Bob'Art has been presented at the Festival Temps d'Aimer (Biarritz), Festival on y danse – CWB (Paris), and Baltic Ballet Festival (Preiļi, Latvia).
Choreographer: Etienne Béchard
Dancers: Etienne Béchard, Johann Clapson, Sidonie Fossé, Victor Launay, Arthur Louarti
Musicians: Livio Luzzi, Raphaël Tholance
This guest performance is supported by the Belgian Embassy in Bulgaria.
June 1 (Sunday)
The Woman Who Didn't Want to Come Down to Earth – A trilogy
Gabrielle Neuhaus – Israel
Chamber Hall – Plovdiv Drama Theatre, 7 p.m.
Created, designed and performed by Gabrielle Neuhaus
Music: Scarlatti, Bach, original soundmix
Video Editing: Ayala Ehrlich
Lighting Design: Gaurav Sharma
LED Lighting Design: Gabrielle Neuhaus and LED Power
Flexibility, strength, boundless creativity, lightness and precision . . . All theatrical elements are kneaded like plastiline. A real pleasure . . . 2nd opinion
A physical and visual theatre piece combining acrobatic movement, dance and everyday objects, this miniseries deals with the life of a woman who refuses to touch ground. Confronted with external threats and demands, she obeys neither rules nor gravity, ending up in absurd and extreme situations. Each episode takes a humorous and surreal look at the woman's personality as she follows her own path with dogged determination.
The Woman Who Didn't Want to Come Down to Earth was created in 2012 for the Clipa Aduma and Intimadance Festivals in Tel Aviv.
The Woman Who Didn't Want to Come Down to Earth was performed at the 3rd Teatronic International Chamber Festival, Kharkov, Ukraine, November 2013;
5th European Theater Night, Zagreb, Croatia, November 2013; 16th Bharat Rang Mahotsav Festival, National School of Theatre, New Delhi, Imphal and Guwahati, India, January 2014; 13th Slavija International Theatre Festival, Belgrade, Serbia, March 2014.; 11th Busan International Performing Arts Festival (BIPAF), Busan, South Korea, May 2014; 4th MonoBaltija International One Actor Theatre Festival, Kaunas, Lithuania, March 2014.; 13th Tanzfestival Bielefeld 2014, Bielefeld, Germany, July 2014; and the 15th Annual Revolutions International Theatre Festival, Albuquerque, US, January 2015.
June 1 (Sunday)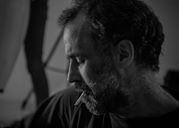 "Brecht" by Toma Markov, Bulgaria
The author presents his play "Brecht" with actress Sibila Serafim and journalist Todor Peev
Club Fabric, 9 p.m.
June 3 (Tuesday)
Contemporary Dance Program
Chamber Hall – Plovdiv Drama Theatre, 7 p.m.
ALMA – Duet by Rachel Erdos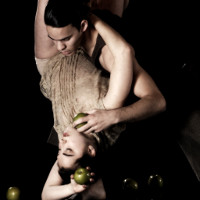 "An emotional piece in a deeply poetical and sensual manner. The metaphoric man/woman duet has an organic strength with its deep emotional and physical use of the body." (Judges' review from the AICC Choreography Competition)
Winner of the AICC International Choreography Competition 2008, Aarhus, Denmark
Winner of City Dance Ensembles Next Choreography Commission 2009 Washington, DC
First performed May 2007 as part of the Shades of Dance Festival, Suzanne Dellal Centre, Tel Aviv, Israel
Choreography: Rachel Erdos
Original Music: Alberto Shwartz
Dancers: Yoav Grinberg, Shani Katzman
This guest performance is supported by the Embassy of Israel in Bulgaria
Prism – Solo by Andrea Hackl, Netherlands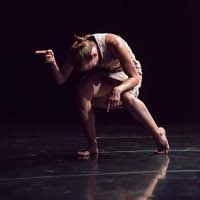 Andrea Hackl is based in Amsterdam. Over the past few years, she has been dancing and touring with various companies across Europe (e.g., Emanuel Gat Dance, United-C, Suzy Blok, and Fabian Chyle) and has been frequently invited to residencies.
Prism premiered at the Off Festival Montpellier Danse 2013, Mouvements sur la Ville # 5 at Espace Bernard Glandier.
Prism: A Solo Performance Questioning Identity Structures
This performance is a response to the situation in the world we live in today, where too many factors divide us and make us drift further and further apart. By looking into "What is identity?" this piece addresses the essential need to re-connect with what lies beyond.
Exit - Solo by Olga Kosterina, Russia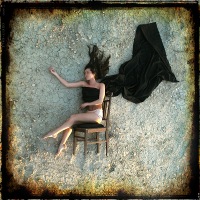 'Olga Kosterina is an exquisite dancer. She remains graceful and poised even as she contorts her body into some truly astonishing configurations. Kosterina bridges the gaps between dance, physical theatre, mime and gymnastics, and the result is a delight to watch.' (EdinburghSpotLight)
Multiple-genre dancer, actress, choreographer. Winner of THE BEST CHOREOGRAPHY at ROMATEATROFESTIVAL 2012. Rome, Italy
Olga Kosterina'performance " Dilema" is in Hit List of the Best Dance Events at Edinburgh Festivals 2013 (the LIST) and Hot Show rating of 'the Scotsman'. Edinburgh, Scotland, United Kingdom
Kosterina is a headliner of Festival of a Brilliant Audience. Crimea, Ukraine
Special prize of Jury at «XII International Festival of Theater and Visual Art ZDARZENIA». Tchew, Poland
Special guest at THESPIS International Monodrama Festival . Kiel, Germany
Special guest at International Festival АTSPINDYS. Vilnius, Lithuania
The Black Box Festival presents Festival euro-scene Leipzig – Best German Dance Solo 2013
In 2013, for the 11th time, Festival euro-scene Leipzig presented the Best German Dance Solo Competition. A 5-minute solo, danced on a round table 7 m in diameter, surrounded by 360 degrees of audience and the 5 jury members. Self-reliance, creativity, charisma, and individuality are the name of the game. Two of the 2013 winners will be presented at the Black Box Festival.
Idea and Design: Alain Platel, Gent
Artistic Director: René Reinhardt, Leipzig
Festival Director: Ann-Elisabeth Wolff
Festival Director: Ann-Elisabeth Wolff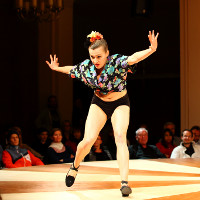 Justyna Kalbarczyk, Berlin, born in 1990 in Wroclaw / Poland
Bim bam bum"
Choreographie: Bridie Gane, Berlin, born in 1989 in Bristol / Great Britain
Music: Xavier Cugat
1. Price and Audience Award 2013 from the competition "Best German dance solo""
Conception: Alain Platel, Ghent
euro-scene Leipzig, Festival of contemporary European theatre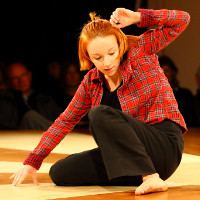 Irina Demina, Hamburg, born 1986 in Legnica / Polen
"Dark Quark"
Music: Tool "L.A.M.C."
3. Price from the competition "Best German dance solo""
Conception: Alain Platel, Ghent
euro-scene Leipzig, Festival of contemporary European theatre

Guests performances are supported by the Goethe-Institut Bulgaria
June 3 (Tuesday)
Immured
State Puppet Theatre – Plovdiv, 7 p.m.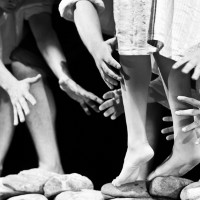 "There should be a bridge over every body of water, and people should walk back and forth over it, going about their business."
In order for the bridge to remain imperishable and everlasting, a sacrifice should be laid at its foundations. The builder Manol immures the love of his life – Neda. What are the limits of a creator's selfishness? How far is he willing to go to eternalize his creation? What's the line that should never be crossed? Does this line even exist? Human life is fleeting, while creation is immortal. Is it a sin to take the first for the sake of the second? God created man and gave him a soul. Manol created a bridge and immured in it a soul, the soul of his beloved, for the bridge to last – forever!
Directing and Dramaturgy: Veselka Kuncheva
Scenography, Costumes and Puppets: Marieta Golomehova
Composer: Hristo Namliev
Choreography: Stefan Vitanov
Text: Maria Stankova
Ethnology Consultant: Veselka Toncheva
Actors: Hristo Takov, Tatiana Etimova, Natalia Vasileva, Rossen Russev, Jivko Jouranov, Mihaela Andonova, Alexander Karamanov
Producers: Contrast Films LTD and State Puppet Theatre – Plovdiv
June 4 (Wednesday)
PASS/AGES
Teatrincorso, Italy
Chamber Hall – Plovdiv Drama Theatre, 7 p.m.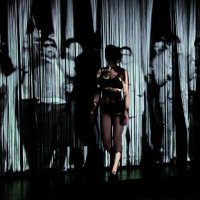 Written and directed by Elena R. Marino
with Silvia Furlan
Pass/ages is dedicated to thinking about aging from a feminine perspective.
Pass/ages is a reflection, through the language of performance, about the fragility and strength of modern women, trapped between society's ageism (even if apparently "politically correct") and their inner wisdom.
Pass/ages was selected for Argot Off – rassegna di drammaturgia contemporanea/review of contemporary dramaturgy – Roma.
Teatrincorso has developed pieces based on texts, silent performances, non-dramatic theatre, and physical/visual theatre.
In 2006, with their work Hamlet, the Teatrincorso company took first prize at the Theatre Festival in Rome. Their performance A_Part in 2007 received the Honour Certification from the Jury at the European Women's Theater Festival in Tornio / Haparanda, Finland/Sweden, and in the same year, with the production Barbablù, they appeared at the Drodesera Festival > Centrale Fies di Dro (TN). In 2008, their play Pinocchio won the Ribalta Award at Teatro Europa in Aprilia (LT).
Their next work Behind the Mirror / Dietro lo specchio – I Believe in Perfection in 2010 was selected for "Altri percorsi" in BOLZANO Teatro Stabile and the project Global Market was selected for the Kantor Award at CRT in Milano.
June 4 (Wednesday)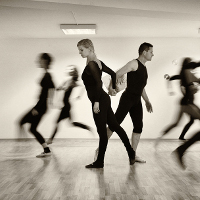 Monologue for Two
Duende Dance Studio
Chamber Hall – Plovdiv Drama Theatre, 9 p.m.
June 5 (Thursday)
WEATHERED/LAYERS
Erica Essner Performance Co-Op, New York
Boris Hristov Cultural Centre, 7 p.m.
June 6, Layers – Workshop/Performance
June 7, Layers – Workshop/Performance
"Sounds of thunder, wind and rain roll through the score, a collage of moody instrumental tracks, and Amy Glenn's costumes include ripped fabric and tie-dyed prints that resemble voluptuous storm clouds. The dancers are continually tossed about, as if cast into a tempest." – New York Times
... "Frequently powerful…striking display of stormy passions." Jack Anderson, The New York Times
Weathered evokes atmospheric conditions, and turns concepts of slippage, displacement, resistance into a metaphor for the harmony and chaos of life. Weathered is an exploration of our loss of control over the forces of nature and of how those forces belie the illusion of our permanent place on this planet.
Celebrating their twenty-third anniversary, the Erica Essner Performance Co-Op was founded in 1990 in San Francisco and enjoyed a decade of performing, teaching and touring in the San Francisco Bay Area. In 2000, Erica Essner moved to New York City and re-established the Company. Recent performing highlights include FlicFest, Brooklyn NY, Site-specific work on The High Line, the San Francisco International Arts Festival, Central Park SummerStage, Jacob's Pillow Inside/Out, Joyce SoHo, the Rio de Janeiro Choreographic Center, Alaska DanceTheater, and the Kaatsbaan International Dance Center.
This guest performance is supported by the U.S. Embassy in Bulgaria
Official Closing
June 6 (Friday)
Duel
Les Gens du Quai Company, Франция
Boris Hristov Cultural Centre, 7 p.m.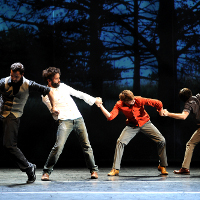 DUEL takes us on a journey into the iconic representations of duels in literature, cinema and beyond together, with five artists, dancers and performers chosen to be our champions. The aim is to question the limits of body in dance within the duel and explore the role of the duel to solve conflicts. Spectators are transported into the duel as they watch the "battle" being played out in front of their eyes. We identify with the performers as they skilfully draw us into their ruse. With folly and also seriousness, five dancers hatch their plans in a range of varied situations, by turns trivial, hilarious, and deeply profound. Even within the humour and emotion of the dance, strict attention is paid to the precision of the movements, pushing the limits of creativity and innovation.
Contemporary dance plays with fiction!
DUEL is an evocation of single combats through the ages, handled of course with humour and mockery. Don Quixote is not far away, neither is the Grand Guignol, and we have a fit of the giggles during a show that shields us from the reality behind this comical farce: the fact that, in the old days, a duel ended with a killing. Anne Lopez was actually inspired by duels in cinema and literature: she talks about the reasons that push people into this mortal encounter, helped by the total commitment of the dancer/fighters in their own role, affecting us quite particularly through their presence and acting prowess. Don't you think it would be a pity to deny us our pleasure?
Jean-Marie Gourreau in critiphotodanse – 24/03/2013
Choreographer Anne Lopez is based in Montpellier. In 1998, she set up the Les gens du quai dance company with Sophie Gérard and François Lopez. Within it, she has created many choreographed shows, including Meeting (1998), L'invité (1999), Ecoute Oenone (1999), Révoltes (2000), De l'autre (2001), Litanies (2002), De l'avant invariablement (2004), Face à vous (2005), Idiots Mais Rusés (2007), Miss Univers (2007), La Menace (2008), Duel (2009), and Feu à Volonté (2011). In June 2004, she received the SACD New Choreographic Talent Award for the play De l'avant invariablement (dance/web/Europe project).