THE 2010 BLACK BOX ICTF
The fourth annual Black Box International Festival was held from June 22 to June 30 and welcomed artists from Bulgaria, Germany, Greece, Colombia, Israel, Russia, Iran and Switzerland.
Official Opening:
The Room Theatre, Israel
Adam Zvei Dam / Bleeding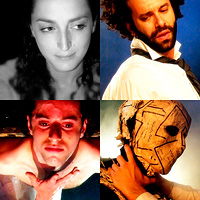 State Puppet Theatre Plovdiv

This production is made possible through the generous support of the Embassy of Israel in Sofia.


Bleeding is a surrealistic macabre fantasy, telling the story of a couple trying to cope with the loss of their son. The action follows the characters' spiritual journey through despair, mourning, destruction, and rebirth.

The performance is presented as a silent physical-theatre show, employing a wide range of genres, such as dance, butoh, plastic arts, and visual theatre.
Festival appearances include the 2006 Israel Festival, the Clipa Theatre Decade Festival, the 2007 Acco Festival, and the 2008 Schauspielhaus Graz. The outstanding quality of this production also earned it the American-Israel Culture Foundation Award.
Yaron Kerbel: Creator/Director
Cast: Maya Gasner (Mother), Doron Henya (Father), Leo Gurevich (Son), Yaron Kerbel (Mourning)
Music: Yuval Mesner (scene 2# by Piazzolla)
Set Design: Toofik Boulous
Lighting Design: Dima Erashkin
Assistant Director: Shlomit Yossef
Artistic Consultant: Amir Orian - The Room Theater
@lma @lter Theatre-Laboratory, Bulgaria
The Impossible You, The Impossible Me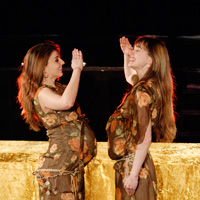 State Puppet Theatre Plovdiv

Two girls behave seductively while pretending to be pregnant. This gives them the freedom to be something they aren't. To do what they've always wanted, but were never able. To strip their life down to the bare truth and finally see their situation for what it is – "impossible." And now what? "We'd be crazy if we constantly wanted to procreate. So not procreating makes us normal. But since we're normal, we should want to procreate." And to defend their "impossible" state, they do just that – procreate. But what exactly? Two rabbits, each a different colour: black and white. Like their lives. They put down the rabbits and exit the stage, leaving the audience to figure it out. Because no one can take charge of our lives but ourselves.
Director: Nikolay Georgiev
Choreography: Petia Yosifova
Script: Milosz Ziapkow
Cast: Zornitsa Antonova, Petya Yosifova
Coproduction by the Plovdiv, Stara Zagora and Burgas Puppet Theatres, Bulgaria
Oedipus: The Celebration of the Blinding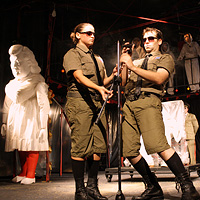 State Puppet Theatre Plovdiv
Oedipus: The Celebration of the Blinding is Bulgaria's biggest-budget puppet production. This blockbuster combines spectacular scenery, three-metre-high puppets, a dazzling 17-member cast, incredible music, and of course, the supremely innovative vision of renowned Russian director Ruslan Kudasov.
Director: Ruslan Kudasov
Puppets and Set Design: Andrey Zaporozhsky
Music: Vladimir Bichkovsky
Cast: Alexandra Ilieva, Ana Dulgerova, Delyan Kyosev, Dimitar Nikolov, Eltitza Stoyanova, Jivko Dzhuranov, Ivaylo Enev, Mariya Atanasova, Natalia Vasileva, Nedelina Roselinova, Rosen Rusev, Rumen Karamanov, Sonya Boteva, Stanislav Matev, Stoyan Angelov, Tatyana Andreeva, Tatyana Etimova
Zig Zag Theatre Company, Bulgaria
The Overcoat by N.V. Gogol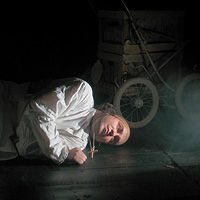 State Puppet Theatre Plovdiv
Adapting a literary classic for the stage is always a challenge. When it's Nikolay Gogol's The Overcoat, "challenge" is an understatement. But this memorable production pulls it off with flying colours, thanks to the brilliant duo of Kovachev and Karov.
Founder of the Zig Zag Theatre Company, director Ivan Kovachev has lived and worked in Washington, DC, for many years. His adaptation of Chekhov's The Cherry Orchard captured first prize at the Houston Hometown Festival, and he's been a three-time finalist at Silver Spring Stage's One-Act Festival.
Actor Martin Karov joined Sofia's Aleko Konstantinov State Satirical Theatre in 2009. He was nominated for an Icarus award for his debut role in Anton Strashimirov's Vampire (directed by Vasilena Radeva).
A. Ostrovskiy Drama Theatre, Moscow, Russia
Scenes of Family Life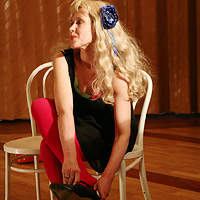 Based on three short stories by A.P. Chekhov
State Puppet Theatre Plovdiv
Staged by one of Russia's leading theatres, this production was created to mark the 150th anniversary of Chekhov's birth.
Three of the author's short stories provide the backdrop for the play: "Tripping Tongue," "The Chorus Girl," and "Out of Sorts." The performance is a shining example of the Russian literary theatre genre, made famous by directors Petr Fomenko and Sergey Zhenovach.
Through the magical world of Chekhov, director Olga Vasilieva takes an ironic look at the ordeals of married life, such as infidelity, bickering, deception, and jealousy. Natalia Mihailovna shares impressions of her trip to Yalta with her husband: beautiful scenery, a lovers' spat, an affair with another man . . . Does she reveal a bit too much?
Nikolay Petrovich Kolpakhov falls for a beautiful chorister named Pasha, a fact that doesn't escape the notice of his observant wife.
Semen Ilyich Prachkhin is upset after losing money at cards the night before. He's looking for consolation, for a way to ease his conscience – and for someone to blame.
Director: Olga Vasilieva
Music: Zaur Fachradov
Cast: Tatiana Belkovetcs, Irina Karpova and Vasiliy Shmakov
βλακlist International Theatre Group, Greece – Colombia
The Suitcase Play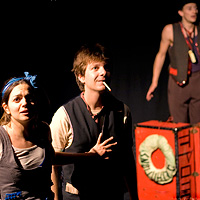 State Puppet Theatre Plovdiv
Costas, Mario, Alexandra and the "others" all have one thing in common: a suitcase. Their paths cross when Mario decides to tour the world, but only gets as far as Athens when he discovers that his world revolves around his new love, Alexandra.
The Suitcase Play is a farce combining elements of slapstick, improv and physical theatre à laPhilippe Gaulier and Jacques Lecoq.
The play was previously presented at the 2009 Going Youth Festival – Tehnopolis (Athens, September 2009); the 2009 Devised Theatre Festival, Neos Kosmos Theatre, Athens; and the 2010 BoB Theatre Festival 10, Chora Theatre, Athens.
Director: Margarita Amarantidi
Playwright: Federico Nieto – El' Gazi
Actors: Christina Dendrinou, Savvas Kovlakas, Federico Nieto – El' Gazi
Choreographer: Jessica Hennou
Original Music: Laertes Malkotsis
Schauspiel Frankfurt, Germany
The Girl With the Nine Wigs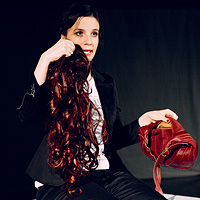 based on the autobiography of Sophie van der Stap
State Puppet Theatre Plovdiv

This production is made possible through the generous support of Goethe Institute Bulgaria
A young woman with cancer has only a few months left to live. Clinging to life by a thread, she fights to the last with hope, good humour, and implacable determination.
Director: Mina Salehpour
Producer and Playwright: Marcel Luxinger
Starring: Julia Penner
Set Design and Costumes: Anna Dischkow
Music: Arnim Streek
Up-and-coming director Mina Salehpour was born in Iran but raised in Germany, where she now lives and works. This production marks her directorial debut.
Julia Penner is one of Germany's most talented young actresses. She studied at the famed Ernst Busch-Schule in Berlin and was a member of the Schauspiel Frankfurt and Stadttheater Konstanz ensembles. Marcel Luxinger is a Swiss author, playwright and director whose works have been staged at many of Germany's leading theatres, including the Schauspiel Frankfurt, Schaubühne Berlin, Staatstheater Stuttgart, and Schauspielhaus Hamburg. He is currently writing plays for the Theater Basel and Schauspielhaus Bochum.