Parallel Activities – The Black Box ICTF screened films at the Trakart Cultural Centre, in partnership with the Bulgarian National Film Archive.
June 26, 6 p.m. - Cat on a Hot Tin Roof, USA, 1958
June 27, 6 p.m. - A Streetcar Named Desire, USA, 1951
June 28, 6 p.m. - Marriage Italian Style, Italy/France, 1964
June 29, 6 p.m. - Uncle Vanya, Russia, 1959
Lazaritsa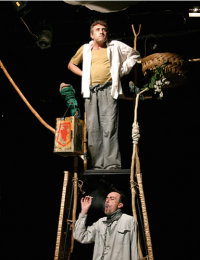 Tear and Laughter Theatre
by Yordan Radichkov
Director: Krikor Azaryan
Cast: Valentin Tanev, Malin Krastev
Set Designer: Neyko Neykov
Music and Sound Designer: Mihail Shishkov
It would be no exaggeration to say that this production of Lazaritsa is one of the most original interpretations of Radichkov's play in the past 15 years. Funny, insightful, and original, the play is designed as a tragicomic farce.
Awards: Krikor Azaryan – Best director award at the Vratsa Festival, Bulgaria, Valentin Tanev – Icarus award for best monodrama performance, Malin Krastev – Asker award for best supporting male role, Mihail Shishkov – Icarus award for music and sound design
I'm Not Dreyfus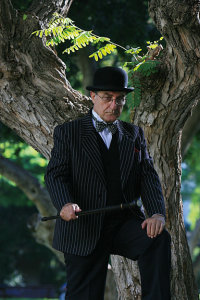 Chamber Theatre – Tel Aviv, Israel
Writer and Director: Yehoshua Sobol
Starring: Alex Ansky
To salvage the reputation of the French Army following its crushing defeat at the hands of the Prussians in the 1870 War, senior commanders in the French intelligence service plotted a conspiracy against Captain Alfred Dreyfus, the sole Jewish officer in the French Army's general staff.
A monodrama directed by Yehoshua Sobol, I'm Not Dreyfus was originally presented at the Tel Aviv Chamber Theatre in 2007.
Futurological Congress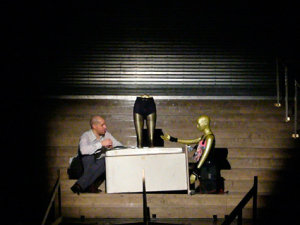 by Stanislav Lem
Schauspiel Frankfurt, Germany
Director: Marcel Luxinger /Switzerland/
Set Designer: Julia Plikate
Cast: Sebastian Shindeger
The Schauspiel Frankfurt is one of Germany's leading theatres, known for putting on innovative experimental works.
"The future is already inevitable," reads Tihi, as he looks back with regret on the past. He had been attending the futurological congress in Costricana, when a revolt was brutally suppressed there.
"An actor begins to fly and takes the audience with him." - Ofenbah Post, Germany.
The Diary of a Madman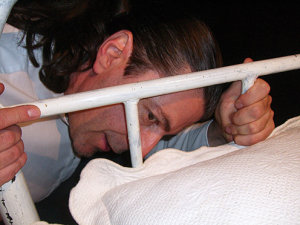 by N. Gogol
Onstage Art Theatre, Athens, Greece
Director: Takis Zamaryas
Actor: Dimitris Kostadinu
Gogol's masterpiece is a challenge for actors and directors alike. This production features the standout performance of Dimitris Kostadinu.
Kostadinu's other acting credits include roles in Fuente Ovehuna by Lope de Vega, Shakespeare's King Lear and Macbeth, and Aristophanes' Aharnis.
The Hooligan's Confession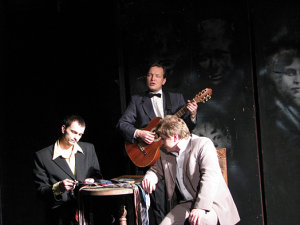 by Sergey Esenin
Taganka Theatre, Moscow, Russia
Director: Valeriy Taganski
Cast: Vladimir Zaviktorin, Kiril Petrov and Daniel Perov
This hit play produced by Moscow's world-famous Taganka theatre company has been a mainstay of Russian stages for many years.
When The Hooligan's Confession premiered in 2001, critics praised Vladimir Zaviktorin's uncanny performance in the role of Esenin. Zaviktorin is a widely admired actor and poet on the Russian theatre scene. He's also appeared on the big and small screen, most recently in the TV series Brigada (2002).
Mr. Ibrahim and the Flowers of the Koran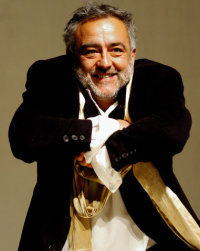 by Eric Emmanuel Shmitt
Ivan Vazov National Theatre, Bulgaria
Director: Snezhina Tankovska
Monodrama by Marius Donkin
Eric Emmanuel Shmitt's Mr. Ibrahim and the Flowers of the Koran has been enjoying a long, successful run on the stage of Ivan Vazov National Theatre.
"Hat's off to everyone who produced Mr. Ibrahim and the Flowers of the Koran!" Pari newspaper
"The play will purify you and elevate you to that rarely achievable state of sad joy – you feel so good, it makes you want to cry." Monitor newspaper
Honours include the Vidlunya award, Kiev, Ukraine; grand prize at the Bitolya Festival in Macedonia; and grand prize at the Albamonofest in Korche, Albania.